Membership Hack: Member Prospect Cards
Getting board members on board with membership recruitment is as easy as handing them a prospect card.
How to hack it? Each year, the Ontario Trial Lawyers Association hosts a long-range meeting to think strategically about the year ahead. At the meeting, OTLA board members are encouraged to fill out member prospect cards, which are placed at the center of the table. They're not required to complete the cards, but many do, because it's a proven way to recruit, says Jeff Hanlan, membership development coordinator.
"This is one way in which we're able to get our board focused and engaged on a strategic priority—membership recruitment," says Hanlan. "Pretty much any association can do this."
Why does it work? The card gathers necessary information that OTLA uses to send a personalized email to the prospective member. Here's what it looks like:
(Courtesy Ontario Trial Lawyers Association)
What's the bonus? OTLA has strict requirements for membership—only plaintiff attorneys can join—so it can be difficult to know who is and isn't qualified. "We've found this to be a simple and easy way to verify," Hanlan says. "Our board [member] fills out the card, then we'll do the research to make sure the prospect is qualified."
Save
Save
Save
Save
Save
Save
Save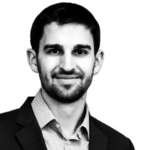 Tim Ebner