Spotlight on Diversity Part 1: How One Association's Women Are Leaning In
To help instill better communication and leadership skills in female colleagues, a group of executive-level women at the American Society of Radiologic Technologists started their own "Lean In Circle." A year and a half later, the women are more willing to take risks, more willing to speak up, and more willing to fail.
Breaking the mold and creating inclusive environments is no easy feat. While study after study illustrates how diversity is good for business, putting evidence into action is often easier said than done.
In fact, one recent study illustrated that women and minorities who advocated for diversity by trying to advance the careers of other women and minorities actually hurt their careers. And, earlier this week, Mark Athitakis pointed out how efforts to increase board diversity, which recent research suggests is lacking, are haphazard at best within associations.
Occasionally, stars align and a diversity initiative or program takes off with career-changing results.
Just ask Ceela McElveny, chief communications and membership officer at the American Society of Radiologic Technologists (ASRT) in Albuquerque, New Mexico, who started a "Lean In Circle" for executive-level women colleagues a year and a half ago.
We talk about our own experiences, and we share what has happened to us in the past and how we've learned and grown from that.
Inspired by Sheryl Sandberg's book Lean In, McElveny wanted to help provide female colleagues with tools to become better communicators, negotiators, and decision makers as well as create a space where they could share advice and provide feedback to one another on some of the common issues women face at work.
"We explore issues such as stereotypes, gender biases, and double standards that women face in the workplace, where often the same traits or behaviors that are observed as positives in men are viewed as negatives in women," McElveny said. "For example, a man may be seen as questioning, but a woman is seen as being argumentative. Or a man is called decisive, but a woman is called pushy."
Those types of stereotypes not only affect women and prevent them from reaching their full potential, but they also hinder organizations by not allowing them to capitalize on some of their most talented employees, McElveny added.
The ASRT group draws heavily on LeanIn.org's resources for facilitating the once-a-month, lunchtime meetings, which often focus on issues such as power and influence, team dynamics, and taking professional risks.  Every once in a while, the group goes outside of Lean In's provided materials and discusses a magazine article or a film, such as a documentary that explores how women are portrayed in the media.
Earlier this year when The Atlantic published "The Confidence Gap," an exploration of men and women's self assurance levels, it became excellent fodder for McElveny's group.
"The women who wrote the article have a survey on their website, and we all went in and took the survey on confidence," McElveny said. "We got individualized results that told us whether we had high, average, or low confidence, and then in the Circle meeting we discussed our results and shared what we learned."
With 14 participants, the ASRT Circle has 100 percent participation among women in the association's director and senior-management level, and not long after the executive-level group launched, a group of ASRT mid-level women started their own Circle. While the groups get together once a year for a mentoring session, McElveny said the distinction between the two Circles is important.
"We talk about our own experiences, and we share what has happened to us in the past and how we've learned and grown from that," she said. "It's important when you start a Circle that the women be at roughly the same stage in their careers so you have that common ground."
More than a year and a half since ASRT launched its first Circle, McElveny said she sees more women in the organization taking risks and volunteering for assignments and to lead projects.
"I see confidence levels going up," she said. "Women in the office are more willing to take risks, more willing to speak up, more willing to state their positions, and, this is going to sound crazy, but they're learning how to fail."
A lot of women are afraid of failure—they're perfectionists—but at ASRT, "we're learning how to fail and persevere and pick ourselves up and try again," McElveny added. "And when you do that over and over again, it helps build confidence."
Check in next week to see how the Atlanta Board of Commercial Realtors is working to disrupt the commercial real estate industry's reputation as one of predominately white men.
What kinds of diversity programs does your association sponsor for its employees? Let us know in the comments.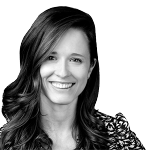 Katie Bascuas