Business
Monday Buzz: The State of Association Publishing
What's the latest prognosis for the association publishing industry? An extensive survey from Folio finds out, and the results aren't disastrous. Plus: Why keep so much information stored away in unintuitive documents?
Folio magazine polled a wide array of association publishing professionals earlier this year, and the results of its survey reveal an industry faced with the continued decline of print's prominence.
But that doesn't mean it's all doom and gloom for association publications.
"Overall, associations expect to generate publishing revenue of $30.00 per member in 2014—down $2.25 from where it's been over the last three years and $8.32 off its 5-year average," Folio reporter Michael Rondon writes.
"Many have been able to maintain margins with spending cuts as revenue has faded, though. Per member spending has dropped even further than revenue over the last 5 years, down 28 percent versus a 21-percent decline for revenue."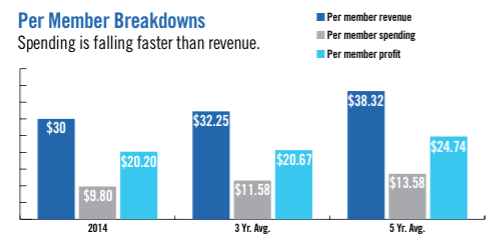 To compensate for the continued decline in print revenue, associations are turning to a wide range of alternatives. The shares of revenue from paid subscriptions, events, data and info sales, and "other" sources all increased in 2013, though print-advertising revenue still accounts for 54.7 percent of the total.
Though the consensus is that digital revenues have gained momentum in the past year, with an expected increase from 8.3 percent in 2013 to 9.3 percent in 2014, and will hopefully continue to do so, the future of association publishing remains cloudy.
More than anything, thoughts about the future are dominated by guarded predictions of growth, some predicted stumbles, but fewer prognostications about a revenue free fall than in past years. (Stay tuned for more takeaways from the study tomorrow on AssociationsNow.com.)
Webinar News of the Day
Join us in January for: Tools for More Effective Board Meetings – Free Expert Webinar featuring @rickmlent http://t.co/VTB9jQnr9e #assnchat

— Wild Apricot (@WildApricot) December 22, 2014
Start off next year's meetings on the right foot by tuning in to Wild Apricot's January 21st webinar "Tools For More Effective Board Meetings," presented by longtime meetings expert Richard Lent.
Other Good Reads
"When experts are wrong, it's often because they're experts on an earlier version of the world," Y Combinator cofounder Paul Graham writes in his intriguing essay, "How to Be an Expert in a Changing World."
Add another top 10 to your reading list, as the Network for Good's Nonprofit Marketing Blog has released a roundup of its best posts from the year.
Why do we keep information in document files? No, really, why do we? Chris McNulty, chief technology officer for Cryptzone and HiSoftware, ponders that very question in an article on CMSWire.
(gl0ck/ThinkStock)