Despite Winter Wallop, Shows Must Go On
Record-breaking snow and subzero temperatures make things tricky for attendees. Yet it's not keeping associations or venues from delivering great events.
Old Man Winter is doing his best to make the winter of 2015 miserable for a good portion of the country, but especially for the folks up in Boston, who, as I write this, have dealt with 95.7 inches of snow, two blizzards, and the second-coldest February on record. (Even worse: More snow and frigid temps are on the way.)
Meeting planners can work around anything.
And while Boston may have had it the worst so far, other places like Chicago, Nashville, and Upstate New York have been dealing with ice, snow, and dangerously cold temperatures. Despite these weather challenges, associations holding winter meetings and conventions in these areas know that the show must go on. And luckily, the venues and destinations involved (attendees, too) are just as determined to carry out their plans—or at least to add some humor and fun to the situation.
Battling the Elements
Even with record-breaking snowfall that shut down Boston-area schools and public transportation, Katie Hauser, director of communications for the Massachusetts Convention Center Authority, told RejuvenateMeetings.com that the facility has weathered the storms and that no conferences have been cancelled this winter. "We're in the convention business; the show goes on," she said. "Meeting planners can work around anything."
For example, late last month, the 26,000-attendee Yankee Dental Congress took place at the Boston Convention & Exhibition Center and felt minimal effects from the weather; only a few speakers and exhibitors missed it. Maryellen Geurtsen, director of Yankee Operations, told the website that the dental society "was fortunate to have the numbers we got" and that they "really dodged a bullet."
The American Library Association also dealt with bad weather during its Midwinter Meeting a few weeks ago in Chicago. Attendees faced 19 inches of snow and thousands of cancelled flights into and out of the city's airports, yet more than 10,600 managed to show up—not a major decline from the 12,207 who went to the 2014 Philadelphia meeting and really close to the 10,981 who attended the 2013 meeting in Seattle.
Just this week, the 2015 Annual Meeting of the American Trucking Association's Technology & Maintenance Council at Nashville's Music City Center bumped right up against the city's biggest winter storm in years. Luckily, most of the 4,500 attendees arrived before the storm hit, and the Nashville CVB and its hotels and venues are doing their best to make everything run as smoothly as possible. Omni Nashville Hotel Sales Director Todd Roadarmel told The Tennessean he didn't anticipate any significant losses and that "it's business as usual" so far.
And with winter looking to stick around for at least a few more weeks (cue the collective sigh), associations with meetings on the horizon are working to prepare attendees and remind them of cancellation policies. The National Association of Independent Schools 2015 Annual Conference, which begins next week at John B. Hynes Memorial Convention Center in Boston, posted an announcement on its website assuring attendees that the meeting is still on and recapping its cancellation policies—reminding all associations that being transparent and upfront is the way to go.
When All Else Fails
Despite many wanting to cry over this never-ending winter, some destinations are trying to make the most of it, or at the very least inject some fun into the whole situation.
Take, for instance, the Ithaca-Tompkins County (NY) Convention and Visitors Bureau. On Sunday, the CVB took a tongue-in-cheek approach to the arctic weather the region has been experiencing and suggested that visitors go to Key West, Florida, instead—even including images and links to websites.
The CVB posted the following text: "That's it! We surrender. Go to Key West instead. Due to this ridiculously stupid winter, Ithaca invites you to visit the Florida Keys this week. Please come back when things thaw out. Really, it's for the birds here now … P.S. Send us a postcard."
The CVB told the Ithaca Journal that the idea behind the campaign was to commiserate with potential visitors in a way that might keep Ithaca in mind now, when winter weather is likely not a big draw, and later, when the region is in its annual prime. "This is a way for us to stay engaged with our customers at a time when Upstate New York isn't exactly top of mind," said Bureau Director Bruce Stoff.
The approach appears to have worked: The website had more than 150,000 views. However, all that extra traffic crashed the server Tuesday afternoon, which caused the CVB to take the page down. Despite the tech troubles, Stoff told the Associated Press that the office received numerous inquiries because of the campaign.
Another group taking advantage of the snow is the Massachusetts Convention Center Authority, which is using its outdoor space located at the Boston Convention & Exhibition Center—called The Lawn on D—to hold Winter on D's Slope Fest this weekend. The three-day wintertime festival will feature a two-story-high snow slope for tubing, downhill winter sport exhibitions on the slope, a custom-designed and illuminated bar carved out of ice, fire pits, and activities for families.
Associations holding meetings in these cold destinations can make the most of the weather—and keep attendees warm at the same time—by giving away items like hand warmers or even hats, scarves, and gloves bearing their logos.
But, enough with all this winter talk. I'll end this post on a warmer note. After all, there are a few signs that spring is around the corner. One is that most Major League Baseball pitchers and catchers reported to spring training this week, and another is that spring officially starts four weeks from today. Let the countdown begin!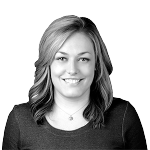 Samantha Whitehorne