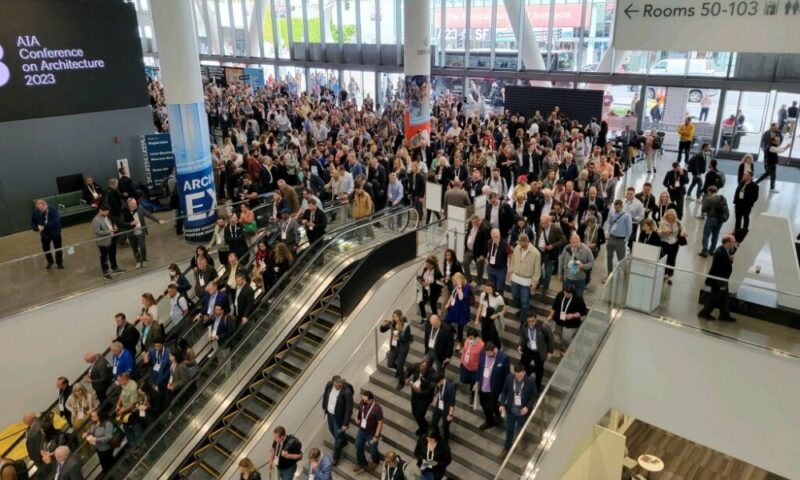 Meetings
Architects Group Brings Tradeshow Management In-House
The decision to manage its latest tradeshow internally gives the American Institute of Architects more opportunities to connect with vendors.
Andrew Flank arrived at the American Institute of Architects in the fall of 2022 as its senior vice president of sales, events, and exhibitions. Rather than ease into the job slowly, he made a substantial decision almost immediately: AIA parted ways with the vendor managing its annual conference's tradeshow and instead brought those operations in-house.
Flank, like AIA CEO Lakisha Ann Woods, CAE, had previously worked at the National Association of Home Builders, where they saw the benefits of that approach. "She saw the potential value that operating your own show could bring to the organization," he said. "It's not only about money. There are hundreds of exhibitors whose only point of contact is with a third party. Those exhibitors could be sponsors, advertisers, donors, members, partners. When you outsource those relationships, I think you miss out on some of that holistic value."
This year's conference, held in San Francisco, drew more than 15,000 attendees and 500 exhibitors according to a report, on par with 2022 attendance and close to its pre-pandemic levels. (AIA canceled its 2020 and 2021 in-person annual conferences.)
AIA staffed up to make the adjustment to in-house tradeshow management, Flank said, hiring a managing director of business development with a strong tradeshow background, as well as a director of exhibit operations. But Flank said AIA also made sure its meetings team was better integrated with staff in marketing, business development, education, and other departments.
"For years, we had a separate convention or conference team, and they operated in a bit of a silo," he said. "What we did this year was break down those silos and engage people from across the association—not just for the tradeshow piece, but for everything."
The shift paid off for AIA: Flank said that exhibit sales and attendance both increased substantially at the 2023 conference, and that it's gotten an excellent jump on next year's conference in Washington, DC, in terms of sponsorships, partnerships, and exhibit sales. "We sold 55 percent of an even larger floor plan for next year onsite, which we saw as a huge win," he said.
Stronger engagement between AIA and exhibitors was key to those increases, Flank said. "There's a difference between all the knowledge and expertise that an association's staff has versus third-party generalists that work across different industries," he said. "They can market the show, have conversations with exhibitors, and speak to the architecture and design community in a deeper way. They have that 360-degree immersion in the industry."
The transition wasn't seamless, Flank said, and recommended that any association considering the shift expect some bumps along the way. "By doing things quickly, there were a lot of things we had to do on the fly," he said. "There is a ton of detail work. But the perfect is the enemy of the very good. We just learned to pivot as we went."
Closer relationships with attendees, exhibitors, and other partners will be essential for associations in the future, Flank said. "Now more than ever, you've got to put on an event that is going to get people off their couch and on an airplane—people are being more selective about what events they want to go to," he said. "When you're outsourcing a portion of your conference, it makes it hard in terms of marketing and in terms of attendee experience and delivery."
(Photo courtesy of AIA)