Professional Organizers Sort Out the Impact of Clutter
A new survey by the National Association for Professional Organizers found that half of Americans are overwhelmed by clutter at home and at work. The group shared some tips to get organized in the new year.
Take a quick look around your workspace (if you're not there right now, just summon up a mental picture.) Take in all of the papers, files, pens, letters, and other stuff lying around or hanging on the walls. Consider the drawers, your closet, even the desktop on your computer—the one behind this open web browser. Are those areas, in your opinion, cluttered?
If you're like 54 percent of the respondents to a recent National Association for Professional Organizers survey, the answer is yes, and all that clutter is overwhelming you. The problem is that 78 percent don't know what to do with all that stuff, or they find it too complicated to deal with so they let it go.
"Some people and organizations just don't know where to go for help," said NAPO Executive Director Sue Pine, CAE. "Our job is to be able to increase awareness of the ability for people to get help, and there are a lot of our organizers and productivity specialists who work with businesses. It goes to the part of doing what you do best and outsourcing the rest."
The survey highlighted some key areas that people struggle to keep organized, including their paper documents (76 percent), their time (56 percent), and their general workspace layout (42 percent). Additionally, 82 percent believed that if they were more organized, their quality of life would be better.
Clutter can distract us "from keeping our focus on the most important things in our work and in our lives," Pine said. "In an organization, when time is spent on low-return endeavors or high stimulation, then important goals and priorities are often passed over. Personally, when we are overwhelmed with clutter, we go through life feeling like the weight of the world is on our shoulders. Streamlining and getting clear on what's most important is absolutely a quality-of-life issue."
And if you think you missed your chance to de-clutter on National Clean Off Your Desk Day last Monday, NAPO has just the fix: Since 2005, the organization has been the driving force behind Get Organized Month in January. NAPO members host events across the country to help families, businesses, and schools improve their time-management and organizational skills and offer storage solutions.
There's no catchall to becoming more organized, said Pine.
"Every professional organizer will tell you that your messy might be my clean," she said. "We find that a lot of our members will go in and create a workflow for you, one that is very specific to your needs and your own personal use. It comes down to making sure that if you need a piece of paper or a file, you know where to find it."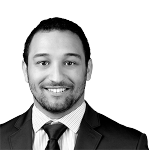 Rob Stott