Turning 100, Watermelon Association Reaches Out to Millennials
The National Association of Secondary School Principals isn't the only association to revamp its image and strategy as it approached a milestone anniversary.
After turning 100 last year, the National Watermelon Association took a hard look at its future. Specifically, NWA began to question how it could better engage with younger generations, given its aging leadership and flat or declining membership numbers over the last few years.
"The watermelon industry as a whole is struggling to engage Generation Y/millennials," says Sarah Sladek, CEO of XYZ University, which partnered with NWA to help attract younger members. To address the age issue, NWA launched a new logo and an updated website earlier this year. It also took a more active role on social media and created a Generation Y working group led by millennial members who will reach out to their peers and provide insight to the organization.
"For 101 years, NWA has played an integral role in the growth and distribution of watermelon, and they have every intention to be around for the next century and the many generations to come," Sladek says.
Taking a slightly different approach, the Institute of Food ­Technologists decided to mark its 75th birthday this year with a ­public awareness campaign that would help promote an important policy area as well as the organization itself.
"We wanted to tackle an issue that was very challenging rather than have a traditional 75th-anniversary celebration," says Jerry Bowman, IFT vice president of communications. "So, we looked at the key challenges out there, and a big challenge is that we have to feed 9 billion people by 2050. And nobody's really talking about how we're going to do it."
IFT launched FutureFood 2050, which features 75 stories and a documentary all focused on food issues, innovations, and solutions to the challenge of feeding a growing population.
"Part of our role as a nonprofit is education," Bowman says. "So, we see this as an important investment in terms of the story of the science of food but also science in general."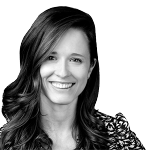 Katie Bascuas