Meetings
Time for a Conference Chatbot?
If you're looking to improve onsite customer service at your meeting, a chatbot may be a good choice. Not only will it help answer your attendees' most frequently asked questions, but it will also provide your association with data and insights.
A few weeks back there was a discrepancy in my cellphone bill that I was dreading having to resolve. Why?
Because I thought it would involve me having to call customer service, sit on hold for at least 20 minutes, and then be passed from representative to representative until my issue was finally resolved—at least 45 minutes later.
But, lucky for me, as I was on the company's website looking up the number to call, a chatbot popped up with the following words: "Hi, I'm Jennifer. Can I help you with something?"
I typed in my issue, gave her a few account details, and no more than 10 minutes later, my bill was fixed. It was a surprisingly quick and easy way to interact with their customer service team—and much better than being on hold forever.
Associations have started to get into the chatbot game as well, particularly when it comes to improving their member service function.
For example, a few months back, our senior editor, Tim Ebner, wrote about how the Association of International Certified Professional Accountants had introduced a chatbot for Facebook to help its member services team respond to frequently asked questions.
"After research and ideation, we determined that a chatbot, preloaded with our FAQs, would handle a large percentage of inbound inquiries, providing members with immediate and accurate responses to their most pressing questions," said Chrissy Jones, AICPA's lead manager of communications and member engagement. "This solution would help free up staff time, enhance member satisfaction, and allow the social media staff to easily forward questions to our member service department when necessary."
But chatbot technology doesn't need to be limited to the member services department. It could also be a great addition to your meetings and conferences by helping answer your attendees' questions onsite and directing them to meeting rooms and other locations.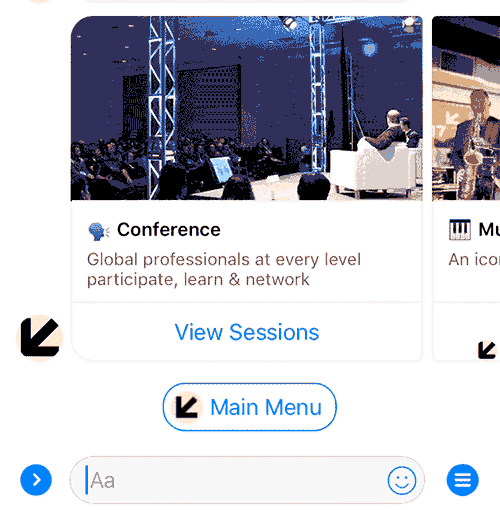 For instance, SXSW introduced a chatbot named Abby (shown above) to its mobile app and Facebook Messenger in 2017. Abby's job was to help attendees navigate SXSW, find out what was happening, and get timely answers to FAQs.
On the association front, the American Society of Hematology used the Amazon Echo Alexa chatbot as an information resource at its annual ASH conference in San Diego last December. William Reed, ASH's senior director of meetings and community engagement, told MeetingsNet that the organization used the device to supplement traditional information booths that were operated by its staff and increase onsite customer service. Alexa will once again be making an appearance at its 2018 annual meeting, which starts this weekend.
While it seems that conference chatbot functionality is currently focused on helping attendees navigate venues or get answers to common questions, I expect they'll soon be helping attendees schedule meetings with exhibitors or even check in to their hotels and their flights home.
And chatbots also collect lots of valuable data. Since each question that is received is recorded in reports, associations that use the technology can identify common pain points for attendees and work to fix them either onsite or in time for their next event.
How do you think a chatbot could improve the attendee experience at one of your upcoming conferences? Please share in the comments.
(venimo/iStock/Getty Images Plus)